Limitlesslane Referral Program
Here at Limitlesslane, we don't mind admitting that we're a little old-fashioned. That's why, instead of fancy media campaigns, we prefer it if our customers do the talking for us. As a thank you for recommending us to your friends and colleagues, we offer arguably the most generous referral program of any password manager. So start inviting, emailing, tweeting and facebooking today - it makes sense in your head, heart and pocket.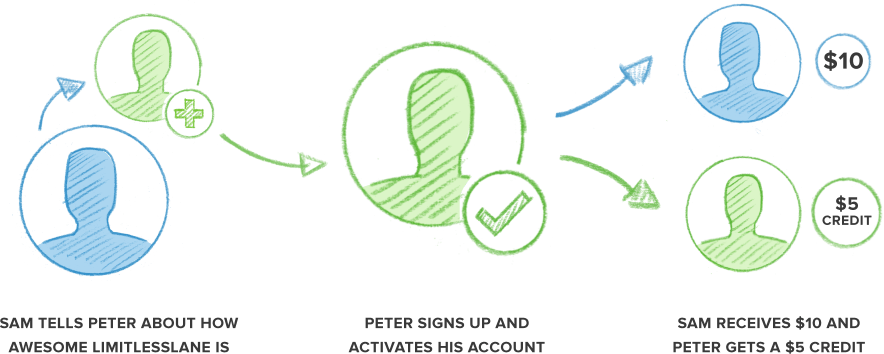 How It Works?
Can anyone join the referral program?

Yes, everyone is welcome to sign up. However, we do reserve the right to cancel your account if we feel you are abusing or representing our company in a way we don't approve of.

How much can I earn?

There is no limit to the amount of money you can earn. For active referrals we'll pay you $10 and $5 Limitlesslane credit for the person you refer.

Do you pay out for account renewals?

Right now we're only offering a one-time reward. This is one reason why we've set our commission above the norm for products/services in our price range.
How often will I get paid?

We pay at the beginning of each month via PayPal or commission towards your Limitlesslane account balance as credit (Your choice!). This is the fastest and most reliable way to ensure that everyone gets paid on time every time.

Do you have artwork that I can use?

Yes, we've designed a collection of banner ads for all of the most popular sizes to ensure that you're able to find something nice to add to your website or blog.

I'm ready, how do I start?

Glad to hear it! Just click here to begin the sign up process and you'll be on your way in just a few short minutes.